Single view of customer for effective marketing and sales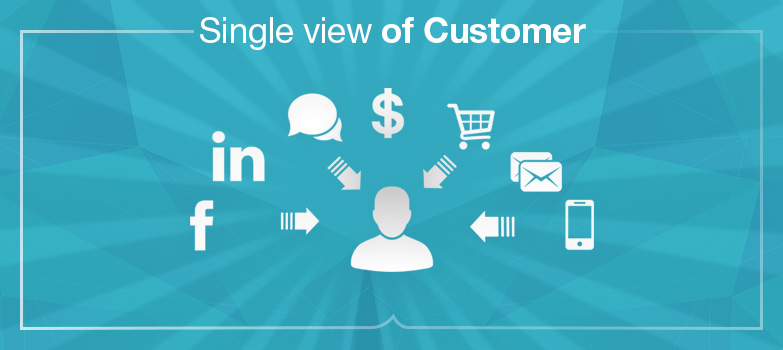 Consumers of today have no dearth of digital platforms to interact with businesses. They don't have one but multiple channels to communicate. In fact, 50% of customer interactions happen during a multi-event. Imagine the amount of data being collected with every interaction! To learn about single view of customer for effective marketing and sales, please go through the complete post.
For businesses, a multi channel approach is the best way to go about providing a seamless experience to customers in terms of speed and outcome. It offers a wider scope to businesses to analyze buyer personas and identify customer patterns, and create messages better targeted at them.
The point is to use data in a meaningful way. However, a multiple channel approach doesn't allow that to a large extent. The thing is multi channel customer views often complicate even the simplest of tasks and make it difficult for businesses to track customer journey.
No wonder only 7% of businesses deliver real-time data-driven engagements across both online and offline mediums, states a CMO Council research.
Single View of Customer enters the picture
Wouldn't it be easier for businesses if they had access to a consistent set of information on how a customer has interacted with them?
That is what a Single Customer View does. It enables businesses to track customers and their interaction with a business on every channel. It presents a very personalized picture of the customer and their journey now that the customer-business interaction is closer than ever.
A single customer view covers personal data, shopping history, online reviews of the customers – basically everything that a business would require to create a converting communication strategy. The unfortunate bit is according to a 2015 Digital Marketer 89% of businesses have challenges in creating a single customer view.
To achieve a SCV, there has to be some sort of system that unifies all the information on that customer – a customer PIN or tag. The data is pulled together on one place thanks to the PIN. This only makes it easier for businesses to create marketing campaigns that are optimized to the fullest to drive results.
Two benefits of a Single Customer View…
1) Marketing and sales team can work in sync
A single view of customer provides holistic information about the customer after analyzing his purchases, interactions and behaviours. The data intelligence helps sales and marketing teams to work better together and produce more personalized strategies, resulting in far more effective results.
2) Greater use of customer feedback is possible
A single view of the customer narrows down the focus on feedback and gives businesses a better insight into the new products or services that could be developed at a later stage depending upon customer interests and preferences.
This information can also be shared with other departments such as customer service and IT so as to have a better understanding on how different functions of the businesses are shaping up a customer's overall experience.
Integrating marketing automation with a SCV
In this digital age, taking real-time action makes all the difference. As a business owner, you can't expect to reach out to a potential customer after two weeks since he last visited your website. Whatever you do has to be immediate, otherwise a similar business like yours will snag the customer.
Let us take a look at various functions of digital marketing which become more valuable after the integration of marketing automation and SCV:
1) Email marketing
Depending upon the data collected on every customer, you can plan A/B test emails, schedule emails for ideal time slots, analyze open and click rates through analytics to make more informed decisions in your next campaigns.
2) Social media
You can always reach out to your customers on platforms where they spend majority of their time or are most receptive to your messages if you not only have the right automation support but also have access to the entire customer journey.
3) Lead nurturing
What is better than knowing where your prospects stand with a single view of customer funnel progression? Imagine how easily can you plan the next step so as to convert them faster – all with a single customer view.
4) Activity tracking
A marketing automation tool enables businesses to track customer browsing patterns and buying behaviours. This way you can approach a customer right when he is most likely to convert, on the platform frequently visited by him. Simple, isn't it?
5) Engagement windows
Just as the name suggests, engagement windows allow a business to take advantage of opportunities to interact with a potential customer and to convert him. The communication can take place via emails, social media, website pops up, push notifications, and more.
Over to you
Boston Consulting Group says personalization in retail, healthcare and financial services will drive a revenue shift of $800bn in the next five years. So, what are you waiting for? Get on the Single Customer View bandwagon today!