Leveraging Extended Enterprise in the Digital Era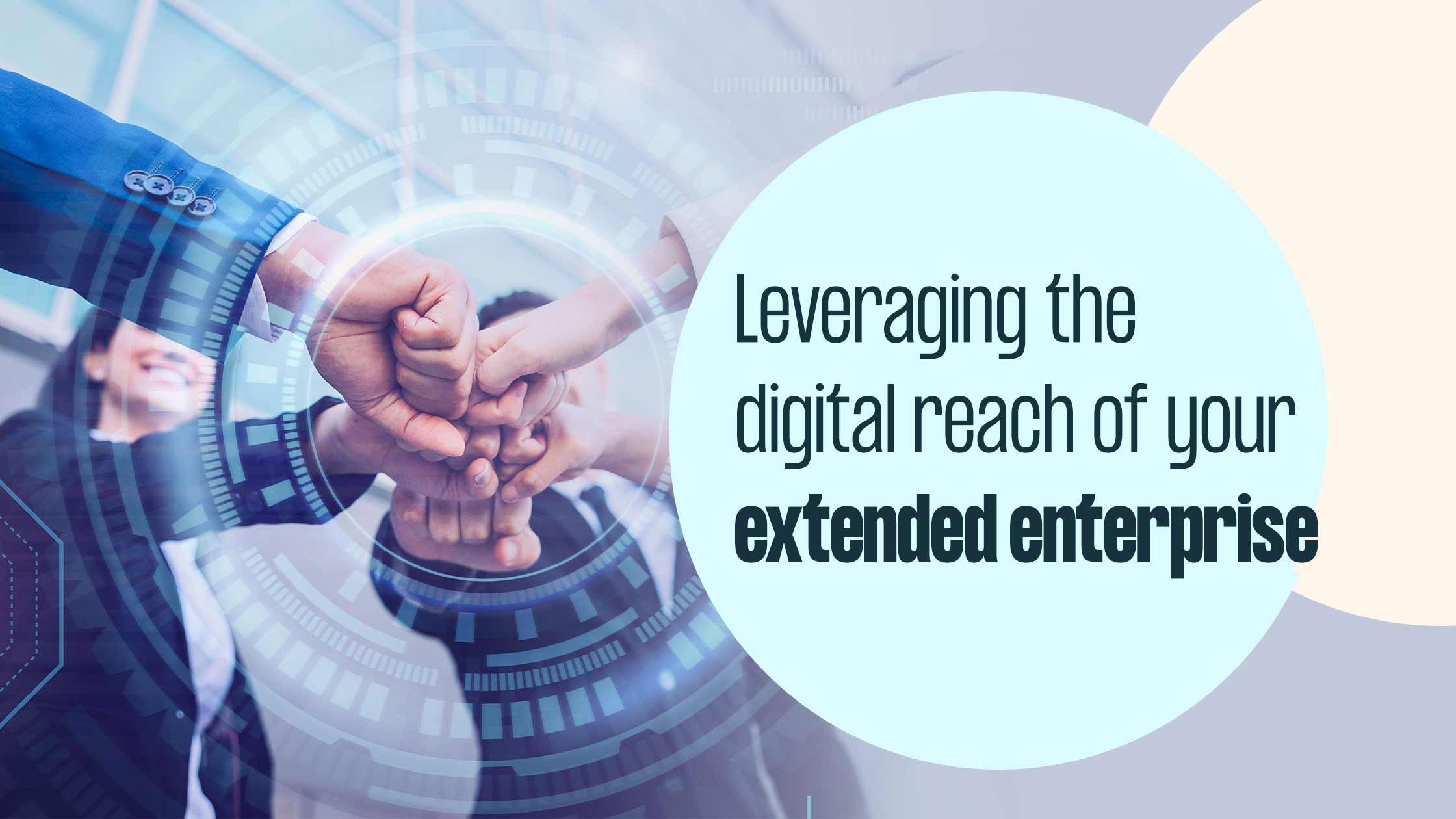 With the rise of the digital era, the business world has become competitive. Working in isolation is no more an option for the companies and their success depends upon a network of partner relationships came to be known as 'Extended Enterprise'. The term stands for the network of channel partners like agents, advisors, partners, contingent workers, dealers, brokers, etc. who directly influence the success of a business with their right market knowledge, sales expertise, distribution channels, and customer relationships. These extended partners are seen by the customer as an unbiased and trusted individual.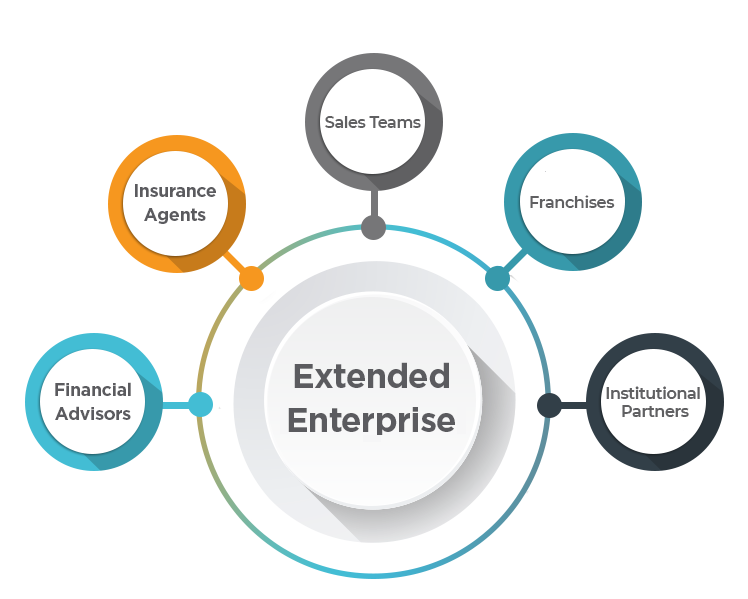 With the influx of the internet and the increased use of mobiles, more and more customers are going online to make their buying decisions. According to a study, 77% of customers read online reviews before making a purchase. With the digital revolution, consumer behaviour and pattern has changed.
A 2016 J.D. Power study found that while 74% of consumers use insurer or marketplace websites to obtain quotes, only 25% buy their insurance policy online'. Despite all of the technologies, gadgets, and devices, consumers still prefer to buy through a physical human entity. So, providing a strong digital presence to these extended partners is no longer a matter of choice.
Let's get a better industry-wise understanding of how and why making these extended partners digitally enabled is essential.
INSURANCE AND FINANCIAL SECTOR
"As more and more customers are opting for digitally-led experiences, digital marketing is no more an isolated discipline, rather it has become the framework for all marketing." Today, the principal organisation has the opportunity to increase its reach by leveraging the digital reach of its extended partners- agents and sales teams.
Now, the question that comes into play is why there is a need to make their agents and sales teams digitally enabled and how do they move toward making these agents digitally strong?
BANKING
Banking in India is becoming highly innovative. Customers are accelerating the drive to digitalization and with the birth of Anytime, Anywhere Banking Concept, people refrain from going to bank branches. According to research from CACI, the typical consumer will visit a bank branch just four times a year by 2022. This changed behavior will pose a challenge for banks especially local branches to communicate and pitch the diverse product range with the limited bandwidth of the sales team. So, how the relationship will be maintained when a consumer barely visits the bank branches? Can we take these branches digitally closer to the customer by making the branch managers digitally enabled?
REAL ESTATE
The real estate industry is another industry that has been revolutionized by digital marketing in a significant way where buyers are extensively researching online before actually making their final purchase. To make your brand stand ahead of the competitors, providing a strong digital presence to brokers is crucial. With the growing number of audiences, the stage is set for property brokers to tap into this huge market by leveraging digital marketing. But are these property brokers ready to leverage digital! And if Yes, Then How?
FRANCHISE
Franchising is a long-term collaboration and companies who wish to be successful must acknowledge the true nature of the relationship. The franchise model is gaining popularity, especially among the youngsters. The need of the hour indicates that brands have to make the digital presence of their extended partners strong because it is, they who represent the brand and drive the end-user communication today. But How?
Why Digital is a Necessity?
As the number of internet users in India is continuously rising at a faster-than-ever rate, it has become crucial for organizations to thrive in by tapping these digital consumers. There is a need to connect these extended partners with customers in all the places where they spend their time online- Facebook, Twitter, LinkedIn and WhatsApp.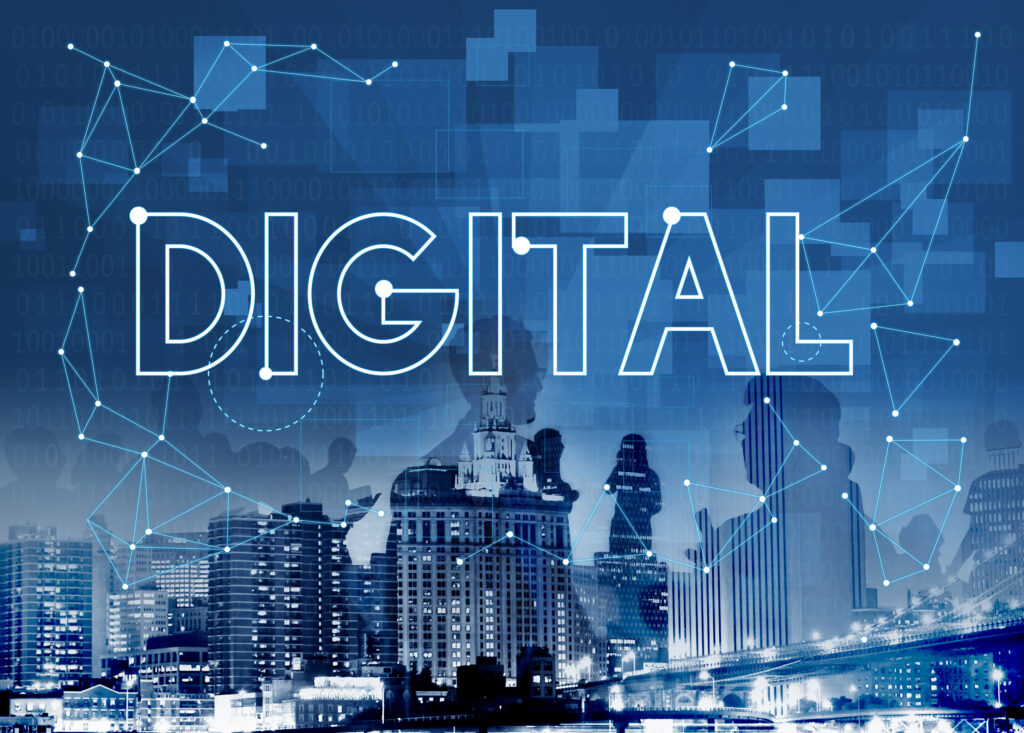 # By being digitally active, these extended partners can increase the engagement as well as customer base by posting and sharing the cobranded content on their social platforms.
# By publishing and sharing the content, extended partners can achieve true customer focus. Traditionally, each partner visits their respective customers one by one, making it a tedious as well as a time-taking task. By becoming digitally active, they can have wide digital presence.
# A personalized website containing his details, achievements etc. will help in generating quality leads and increasing the sales funnel.
# The need of the hour is to find a way through which the principal organizations can leverage the local digital reach of their partners, without compromising on the brand compliance. They also need a way to monitor and analyze the reach and effectiveness of the campaigns to ensure proper ROI, while expanding their reach and pipeline.
How to make them Digitally Enabled?
Having a strong digital presence and mastering digital marketing is not an easy task and extended enterprises need help for the same. A parent organization can win by helping them win. What restricts these extended partners from making their digital presence is lack of resources like good content, brochures, emailers, social media creatives, etc., lack of tools and resources to run high-quality digital programs.
An Integrated Tool/ Platform: To make their extended enterprises leverage digital, there is a need to provide them with a tool or platform that will play a key role in reaching out to their audience. If your extended partners don't have the right tools to easily execute their digital marketing activities, then what good are their marketing ideas for? Almost 90% of these partner's time is spent hunting for meetings with clients, displaying listings, sending an email, and working on the phones. Therefore, an integrated sales enablement and acceleration platform will decrease the time spent and increase the reach as well as sales.
Personalized Website: With over billions of Google searches taking place each day, a customer might just be seconds away from finding and calling these agents. A partner's website will allow prospective customers to access their details with just one click and learn about the various products and services 24/7. Investing in a website integrated with chatbot software will offer the quickest, easiest and ROI friendly lead generation method.
Social Media Marketing: If you want to grow your network, you have to go to the places where your audiences are. To build a digital presence, connect with clients and share information on various social media platforms like Facebook, Twitter, LinkedIn, etc. A successful social media strategy is greater than a sales pitch and offers an opportunity to connect and communicate with the target audience by posting and sharing relevant and informative content.
Email Marketing: Today, email marketing does wonders and gives an exceptional return on investment. These campaigns provide an effective medium for nurturing the leads via marketing funnel by automating emails sent to the audience on a predefined time or user actions. These extended partners can target and continually stay in touch with a band of customers and can cultivate their leads most efficiently. It allows your partners to stay on the top-of-mind with sellers and buyers.
Co-branded Content: Great content creates a great impact. Sharing good and reliable content created by the parent organization presents a great opportunity to these partners for communicating with their audience. A parent organization has the information that your customers value and channel partner has a digital presence. So, leverage the reach of your partners by providing them with co-branded content while maintaining brand compliance.
So, now when you have known what are extended enterprises, the role they play in growing your business and how essential it has become to provide your partners with a strong digital presence to increase their reach and engagement and ultimately expanding the sales funnel. It's time to work ahead! It's time for your Extended Partners to Leverage Digital!
Want to know more on how SalesPanda can help you leverage the reach of your extended enterprise by providing them necessary enablement and empowerment with sales and marketing automation.